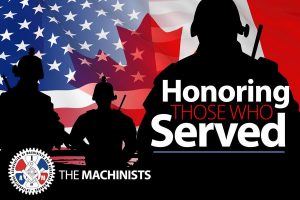 Dear Sisters and Brothers,
This weekend we honor the men and women who have served our great nations through military service. These selfless veterans set aside personal needs and took an oath to protect our freedoms and us.
For their duty and sacrifice, we are forever grateful.
Our mission at the Machinists Union is to support and defend our veterans and active duty members of the military. We are very proud of this great responsibility.
I would like to thank my fellow veterans for their dedication and sacrifice. Our nations are in a better place because of each and every one of you.
Click here to watch a video message from IAM veterans.
As we recognize Veterans Day in the United States and Remembrance Day in Canada, please join me in thanking all those who have served us.
In Solidarity,
Robert Martinez Jr.
International President