Déclaration de l'AIM sur l'engagement d'Air France-KLM à acquérir 60 avions A-220
English follows

Montréal, le 30 juillet 2019 – Les membres de l'Association internationale des machinistes (AIM) à Montréal sont fous de joie suite à la nouvelle qui vient tout juste d'être annoncée à l'effet que le partenariat Air France-KLM s'est engagé à acheter 60 avions A-220 neufs auprès d'Airbus.
C'est une bonne nouvelle pour les travailleurs et travailleuses de Mirabel, où l'usine est se trouve, ainsi que pour la grappe de l'aérospatiale québécoise au complet. Depuis la signature de la dernière convention collective le 15 juin 2019, qui établissait un accord de paix industrielle de cinq ans avec les travailleurs et travailleuses de Mirabel, Airbus a annoncé que 135 A-220 de plus seront assemblés à Mirabel.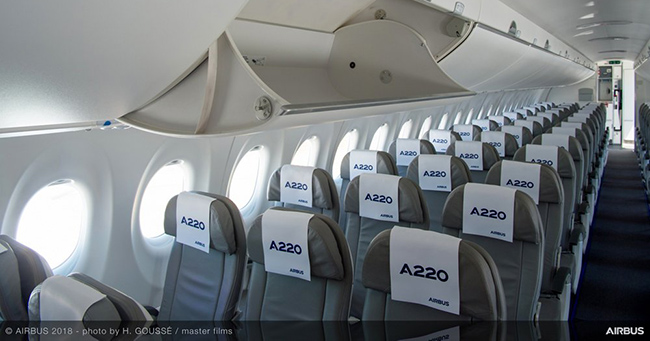 « Cet engagement de la part d'Air France confirme la crédibilité du programme et assure de bons emplois au Québec. Après avoir vécu des moments plus difficiles au cours des dernières années, cette nouvelle était attendue. Le temps est venu maintenant de montrer notre savoir-faire et de livrer la marchandise », déclare David Chartrand, coordonnateur québécois de l'AIM.
À la fin de juin, le carnet de commandes pour l'A-220 était de 551 appareils. L'ajout de 60 avions aux ventes au cours des derniers mois nous permet de croire qu'Airbus pourrait bientôt accroître son niveau d'activité au Québec. « Selon les délais de livraison convenus avec les compagnies aériennes, le rythme de production pourrait augmenter et se traduire par une plus grande quantité de travail pour nos membres. De plus, si Airbus songe un jour à agrandir ses installations pour répondre à la demande, il y amplement d'espace à Mirabel », fait valoir M. Chartrand.
L'Airbus A-220, que l'on appelait auparavant le Bombardier C Series (ou simplement C Series), est une famille d'avions de ligne moyen-courrier bimoteurs à fuselage étroit originalement conçus et construits par Bombardier Aéronautique, et construits depuis peu par la coentreprise Société en commandite Airbus Canada.
L'AIMTA est le syndicat dans le domaine aérospatial jouissant de la plus forte représentation au monde avec plus de 184 000 membres touchés par 1 000 conventions collectives. Active au sein de l'industrie aérospatiale québécoise depuis 1940, l'AIMTA représente 65 p. 100 des travailleuses et travailleurs syndiqués dans le secteur. Parmi les autres sociétés représentées par l'AIM, mentionnons notamment Bombardier, Airbus, Rolls-Royce, Héroux-Devtek, Safran Landing, L3-MAS, AJ-Walter, Air Canada et Air Transat.
Pour obtenir des renseignements supplémentaires ou présenter des demandes d'entrevue, veuillez communiquer avec Guillaume Valois, directeur des relations publiques et de la recherche de l'AIMTA au Québec, à l'adresse g.valois@aimta712.org ou au 514-966-0915.
Pour obtenir des renseignements supplémentaires :
Guillaume Valois
No tél. (bureau) : 514-332-1912
No tél. (cellulaire) : 514-966-0915
g.valois@aimta712.org
IAM Statement on Air France-KLM Commitment to Acquire 60 A-220 airplanes
Montreal, July 30, 2019 – IAM members in Montreal are elated on the just-announced news that Air France-KLM has committed to purchasing 60 new A-220 planes from Airbus
This is good news for workers at Mirabel, where the plant is located, and for the entire Québec aerospace cluster. Since the signing of the last collective agreement on June 15, 2019, which established a five-year industrial peace agreement with the Mirabel workers, Airbus has announced that an additional 135 A-220s will be assembled in Mirabel.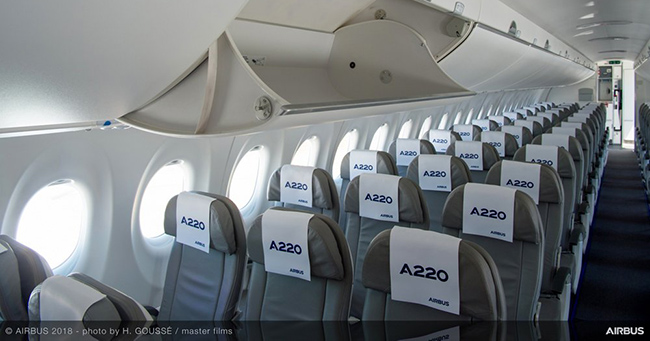 "This commitment by Air France confirms the credibility of the program and secures good jobs in Quebec. After experiencing more difficult times in recent years, this news was expected. It is now time to show our know-how and deliver the goods," said David Chartrand, Quebec Co-ordinator for the IAM.
At the end of June, the order book for the A-220 was 551 aircraft. The addition of 60 aircraft to sales in recent months allows us to believe that Airbus could soon increase its level of activity in Quebec. "Depending on the delivery times agreed with airlines, the pace of production could increase and result in more work for our members. Moreover, if Airbus ever thinks of expanding its facilities to meet the demand, there is ample space in Mirabel, " said Chartrand.
The Airbus A220, previously known as Bombardier CSeries (or C Series), is a family of narrow-body, twin-engine, medium-range jet airliners originally designed and built by the Bombardier Aerospace, and built by joint venture Airbus Canada Limited Partnership.​
The IAMAW is the largest aerospace union in the world with over 184,000 members in 1,000 collective agreements. Active in the Quebec aerospace industry since 1940, the IAMAW represents 65% ​​of unionized workers in the sector. Other companies represented by the IAM include Bombardier, Airbus, Rolls-Royce, Héroux-Devtek, Safran Landing, L3-MAS, AJ-Walter, Air Canada and Air Transat.
For more information or for interview requests, please contact the IAMAW Public Relations and Research Manager in Quebec, Guillaume Valois at g.valois@aimta712.org or 514-966-0915.
For more information:
Guillaume Valois
Office: (514) -332-1912
Cell: (514) -966-0915
g.valois@aimta712.org