English follows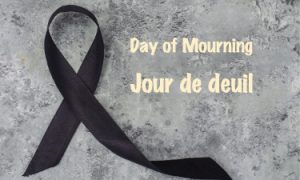 Le Jour de deuil, célébré le 28 avril, nous rendons hommage aux milliers de travailleuses et travailleurs canadiens tués ou blessés au travail chaque année ou qui meurent de maladies liées au travail. À cette occasion, nous pleurons la mort de ces personnes, mais nous devons aussi, parallèlement, réclamer de tous les niveaux de gouvernement qu'ils appliquent plus vigoureusement les lois sur la santé et la sécurité et intentent des poursuites rigoureuses pour toute infraction en cas de décès ou de blessures graves.
Le mouvement syndical a travaillé pendant des années pour obtenir des modifications au Code criminel afin que les entreprises fautives soient tenues criminellement responsables de la mort de leurs travailleurs. La loi modifiée, souvent appelée la loi Westray, tient les employeurs responsables s'ils ne prennent pas les mesures nécessaires pour protéger la vie de leurs employés.
Malheureusement, cette loi est largement ignorée par les gouvernements. Seules quelques poursuites pour négligence criminelle ont été intentées et une seule condamnation a été prononcée.
Il est temps que les décès et les blessures sur le lieu de travail soient traités de manière juste et équitable devant la loi.  Nous avons réussi à faire des progrès dans la protection de la santé et de la sécurité des travailleuses et des travailleurs, mais ensemble nous devons continuer à défendre l'amélioration de la sécurité sur les lieux de travail pour tous.
English
April 28 is a Day of Mourning for thousands of Canadian workers killed or injured on the job each year, or who die from work-related diseases. On this day, we mourn, but it is also a time to insist that all levels of government do more to enforce existing health and safety laws and vigorously prosecute violations when a worker is killed or seriously injured.
The labour movement worked for years to get changes to the Criminal Code so that corporations who kill are held criminally liable. This amended law, often called the Westray law, holds employers accountable if they fail to take steps to protect the lives of their employees.
Unfortunately that law is largely being ignored by governments. There have been only a handful of prosecutions for criminal negligence and only one conviction.
It is time for fair and equal treatment before the law for workplace injuries and deaths. We have made progress protecting workers' health and safety, but together we have to keep fighting for safer workplaces for everyone.